3. Halo: Combat Evolved – "Hold me"
Halo: Combat Evolved on Legendary was no easy game and as a reward for players who actually managed to complete it there was a little something extra waiting for them. At the end of the first Halo game Master Chief sets the ship Pillar of Autumn to self-destruct, bringing down the Halo ring and all the horrors residing on it. When the self-destruct sequence has been initiated it's a mad dash to the end but as Master Chief flies safely away in a Pelican Sergeant Johnson is left on the ground. He is seen battling with an Elite and as the ship starts to blow up he looks into the eyes of the Elite and says "This is it, baby. Hold me" as the ring explodes. Quite the twist, who knew Sergeant Johnson was in love with a hot Elite chick.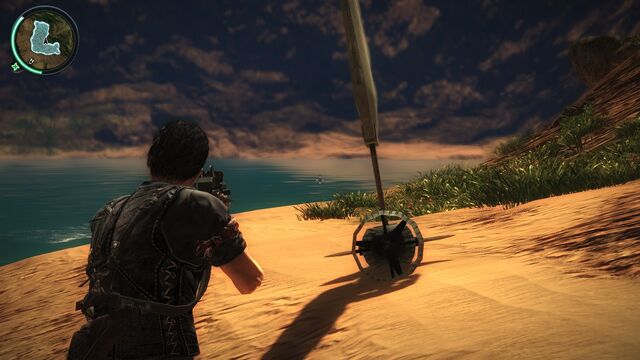 2. Just Cause 2 – Shark Fin
There are a lot of Easter Eggs in the Just Cause games, probably enough for a Top 5 list of its own. There's the Lost Island, the hammer of Tor, Mjölner, the rubber ducky jet skis, the weird "Rocket" box car, a big sign saying "Banan fail". That's just the tip of the iceberg when it comes to Easter Eggs in the Just Cause franchise. But our favorite is the Jaws Easter Egg. It is a simple Easter Egg and a nod to the Jaws movies. In a little lake, most players would just fly over without blinking twice, a little shark fin with a motor strapped to it can be found. It's not much to it, it's just a fin with a motor on it. In the Jaws movie the first sharks they built broke down when they were doing "fin shots" so instead they used motorized fins for some scenes. How it made it's way into Just Cause 2, on the other hand, is another mystery, someone at Avalanche probably likes watching movies.
1. Half-Life – Gaben Gaben Gaben Gaben Gaben Gaben
Our Gaben in Steam/ Hallowed be your Lordship/ Our Steam may come/ Your CS skins be done/ As Steam as in Valve/ Give us today our daily Skins/ Forgive us our Comp loses/ As we forgive those who lose against us/ Save us from the time of Origin/ And deliver us from EA/ For the Kingdom of Steam, the power of CS and the money are yours/ Now and forever GABEN AK'BAR – The prayer of Gaben December 12th, 2003.
Is Gaben love? Is he your life? Do you pray to him just like many other true believers do? Then maybe building a shrine like the one that can be found in the c1n1 map in Half-Life after activating noclip mode is something for you. Once in noclip, Gordon Freeman is a free man to explore the level to his heart's desire. Deep under the level, a black box can be found with a glorious sight inside it. Once inside it Freeman is greeted by the gracious smile by lord Gaben himself, watching over you, protecting you. May he guide you to safety, Mr. Freeman.
There it is, our favorite Easter eggs for this year. What did you think, did we miss your favorite one or did we instead give you a new favorite? Let us know in the comment section bellow.
Once again it is Easter, people are painting eggs in weird colors and then hiding them for kids to find, eating chocolate bunnies and eggs. Meanwhile, some are just playing video games and enjoying a few days off from work
We here at GameZone are more interested in getting gaming in there somehow, rather than anything else, and the perfect way to do it is by listing our five favorite Easter Eggs in gaming! While there are countless of Easter Eggs hidden all over the gaming world, just like there probably are quite a few left outside by parents that their kids never found, we might miss your favorite egg, but we might also show you your new favorite instead.
So let's get started!
Honorable mention: Star Wars: The Force Unleashed I & II – Jar Jar Binks & Guybrush Threepwood
The trailer for Star Wars: The Last Jedi released this Friday and needless to say everyone here got a bit of Star Wars on their mind right now, which is why we got not one but two Star Wars Easter Eggs from two Star Wars games as our honorable mention. The first one is a Jar Jar Binks frozen in carbonite, where he belongs, out of the way, unable to vote for Palpatine to become the galaxy's mega dictator. He, alongside other creatures from Star Wars, can be found in a room on the Imperial Kashyyyk level. The other Easter Egg is from Force Unleashed 2 and it will let you play as no other than the legend himself, Guybrush Threepwood. To be able to play as the protagonist of the Monkey Island games load up the second level, go to the room with a hologram Jabba, in there is a statue of Threepwood and close to him some game machines, smash them and you will no longer be Starkiller, you will be Guybrush Threepwood, the mighty Jedi!
5. Adventure – Hidden Credits
A long long time ago, before 60fps, surround sound, and seamless multiplayer, back when video games were something new Atari didn't allow developers to take credit for their work. Often the developers, consisting of just one or two guys, added their initials to the game and to see them players needed to perform some special step-by-step inputs on a certain level. One developer who decided to hide his name in a game was Warren Robinette and he did it first in "Adventure" for Atari 2600, released 1979. This Easter Egg is also widely considered as the first Easter Egg in gaming history, though some claim that there were at least two hidden credits Easter Eggs before that. Nevertheless, back in the olden days developers had to hide their names as Easter Eggs, now every new game come with almost an hour or more of slow rolling credits with hundreds of names getting screen time, yes, looking at you, Ubisoft.
4. Mirror's Edge and Mirror's Edge Catalyst – Giant Rat Attack
In Mirror's Edge, you take control of Faith, a courier in The City of Glass taking up the fight against its Big Brother governors. Yes, the Mirror's Edge games have a rather serious tone and the protagonist doesn't have too many superhuman powers, making it almost a believable story. That is until you discover the Giant Rat Easter Eggs. It appears for the first time in part D of the "Kate" chapter. When Faith snipes out the engines of a prison transport there is also a three by three board in the background with white dots on it, if she shoots the middle dot a giant rat comes running down the road at full speed like it's late for dinner. In Catalyst, it appears as well, but this time it appears in the shape of a train going down the monorail system, though that one is a bit more difficult to just stumble upon. It's a welcome comic relief in an otherwise serious game