Rig
Rig is the newest character in Dead or Alive entering the fighting ring with his Taekwando. Unsurprisingly, he works on an oil platform and has a mysterious past, as he worked there his entire life. His entry into the Dead or Alive may reveal more about his origin and his past to both himself and the audience.

Akira Yuki
Enter the first of the two guest characters from Virtua Fighter! Armed with the deadly Ba Chi Quan, Akira enters the ring to make his debut as a supreme fighter. While he may not involve himself with the Dead or Alive story, that doesn't mean he won't leave his mark on the franchise.

Sarah Bryant
Alongside Akira comes Sarah Bryant. Although she's a college student, don't take her age lightly. This strong combatant uses a variety of martial arts in her arsenal to pummel her way to victory. Not much is known other than her guest appearance but who knows, she might leave more than a mark on the roster.
Gen Fu
Gen fu is a 65 year-old man living out his days as a book store owner. However, when his granddaughter becomes bedridden he seeks to win the Dead or Alive tournament so he may use the prize money to save her. After treating her, Gen Fu sees no reason to enter the Dead or Alive tournaments though he may find himself slowly being dragged in.
Eliot
Eliot is Gen Fu's apprentice learning the art of Xing Yi Quan. Although he is very young, 16 years old, he wants to prove to himself and to his master that he is a worthy combatant, a proper successor to the arts, and a good person. The end result leads him to the Dead or Alive tournament.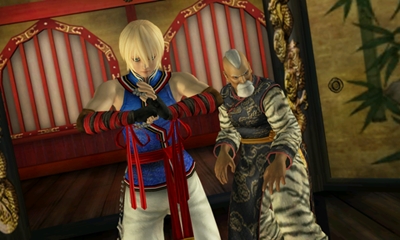 Ryu Hayabusa
Even though he may be more famous for his appearances in another title, Ninja Gaiden, Ryu is no slouch in Dead or Alive. This highly skilled ninja is respected by many of the other Dead or Alive participants and most say that he is strongest fighter. A member of the Hayabusa ninja clan, he is often associated with Hayate and Ayane due to their shared desire of taking down DOATEC.
Alpha-152
Alpha-152 is a genetic clone of Kasumi, created after the first Dead or Alive tournament. This monstrous DOATEC creation was made with being the ultimate fighter in mind. What her true purpose is for is unknown.
Bass Armstrong
Bass is a professional wrestler entering the Dead or Alive tournament for one thing: his daughter. He is Tina's father and he hopes to stop his daughter from becoming a Hollywood superstar and remain as a pro-wrestler. In many ways he's a clingy daddy's girl dad, however, it might also be the fact that he vowed to protect his daughter due to his deceased wife.
Tina Armstrong
The voluptuous all-American superstar can only be described as amazing by her fans. Her background in professional wrestling adds to her fame and now her wishes of being a Hollywood star seems extremely close. Though she may be a female, people don't take her lightly as her extremely capable combat skills leave her opponents usually on the ground. She enters the Dead or Alive for her dream and is often stopped by her father, which she finds particularly annoying.
Bayman
Another assassin enters the ring, and though his motives differ from Christie, both enter the Dead or Alive tournament. Using his Sambo, Bayman hunts down his targets. In one hit, he was left out in the dust without any some sort of payment. As a result, he enters the tournament in hopes of finding the person who betrayed him.

Brad Wong
Hyuk. This drunken fighter reached enlightenment after the third Dead or Alive tournament. Having improved his Zui Quan style drastically, he enters the Dead or Alive tournament to further hone his skills as well look for the famous legendary drink known as Genra.
Hitomi
Another strong vixen, Hitomi is armed with the art of Karate. Using her feet and fists pumped full of adrenaline, she finds herself in the Dead or Alive tournament to prove her skills and be called the best. During one tournament she finds a mysterious man known as Ein, who happened to be an amnesiac Hayate, and grew attached to him. After his disappearance she seeks him out, hoping to eventually meet him again.
Leifang
This sultry chinese teenager, using her Tai Chi Quan, enters the Dead or Alive tournament with only one thing on her mind: defeat Jann Lee. Having been saved in one instance long time ago, Leifang enters the Dead or Alive tournament to prove her worth to both herself and Jann Lee that her strength is also great. Although she has lost to Jann Lee on numerous occasions, her latest foray in the tournament gained her one victory.
Kokoro
Kokoro is a Geisha-in-training. Although she does not quite realize it, Kokoro shares the same father as Helena, making them half-sisters. Her mother trained and forced Kokoro to be a Geisha, and despite her unwillingness, complied with her mother's wishes. Although she's to be inducted in the art of elegance and passivity, Kokoro is familiar with the Ba Ji Quan fighting style. She enters the Dead or Alive tournament with her mother's permission hopes of finding something.

La Mariposa
La Mariposa, or otherwise known as Lisa, is a luchadore with a various mysterious and ambiguous background history. Her association with DOATEC as a science shrouds her with unrevealed shadows that might possibly haunt her. Even so, her easygoing attitude allows her to fight as a pro-wrestler. She enters the Dead or Alive tournament in order to bring DOATEC down, despite her involvement in the organization.
Zack
This ferocious fighter and womanizing athlete finds himself in another Dead or Alive series. His exhaustive wealth and the ability to scam people are only some of his notable aspects. He enters the Dead or Alive tournaments for more wealth and fame using his Muay Thai boxing style.
Christie
A skilled assassin, Christie is hired by whoever is the highest bidder and acts as mercenary of sorts. Currently she is hired to look over Helena and assassinate her as she did her mother. Christie is most familiar with the art She Quan.
Helena
Helena is the president of DOATEC as well as an opera singer. Her background is complicated as her mother was assassinated and she was forced to inherit her father's position in DOATEC. Despite this complication she is a headstrong woman. Her desire to find her mother's assassin, and although this may seem noble, many of her actions appear evil in the eyes of others.
Jann Lee
Perhaps Jann Lee is the obligatory Bruce Lee copycat in the game but this copycat has more style and personality than you'd think. Acting as a bouncer in his free time, Jann Lee's shouts and cries as he uses his Jeet Kune Do speaks loudly of his fighting honor. His desire to become the world's best fighter leads him to the Dead or Alive tournament as he wants to prove his worth.
Fighting games with deep and intricate combat systems are what makes them king. However, when you think about it, characters play a big role too. Dead or Alive 5 is the newest fighting installment in the long-running Dead or Alive franchise and in comes with various familiar faces. If you're not up to the character's story or find yourself a bit rusty then let me guide you through a brief background for the cast of Dead or Alive 5.
Kasumi
A fierce runaway ninja of the Mugen Tenshin clan and a well-endowed female, Kasumi has been around since the series' first title. After turning down an order from the clan, she decided to flee and was branded traitor forced to being hunted until the end of days. Her genetic code is used for various projects and experiments of DOATEC. She is extremely compassionate, moreso than the other characters of the universe, and finds herself more at odds with those that question her honor. Kasumi is most notable for her red hair and blue ninja outfit.
Hayate
Hayate is Kasumi's brother and the next in line to inherit the Mugen Tenshin clan's legacy. After her sister's supposed betrayal, he is tasked to hunt her down as well as bring down the evil corporation of DOATEC. He was supposedly killed after a duel with Raidou, his father's brother, however he lived on as another person due to amnesia. Having been restored to his former self, he wants to take his rage out on DOATEC, who has made his life, as well as his friends', hell.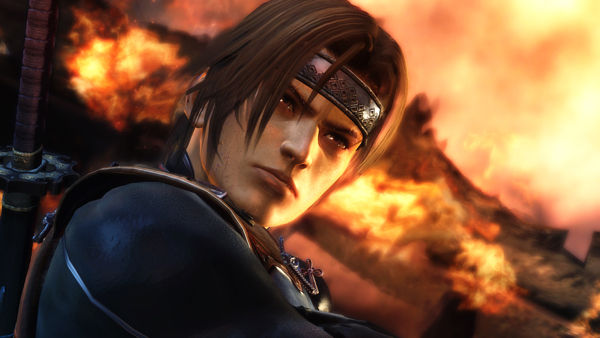 Ayane
Ayane is Kasumi's half-sister and Hayate's half-brother. Having a complicated past and origin, Ayane struggles with her history. Her mother is also Kasumi's and Hayate's but she was raped by Raidou, Hayate's uncle. When Kasumi fled from the clan, Ayane was overwhelmed with betrayal and resentment vowing to bring her sister to justice as she had forsaken the clan. She serves as Hayate's right hand often finds herself at odds with him due to her emotions.