Though we've known for weeks that Denard Robinson will represent the University of Michigan on the cover of NCAA Football 14, we didn't get to see the cover until it was unveiled yesterday. The Michigan QB/RB/WR beat out Texas A&M wide receiver Ryan Swope, becoming the first Michigan player to grace the game's cover since Desmond Howard in 2005.
I understand that fans voted for their favorite school/player, but how in the world did it come down to Denard Robinson — a Quarterback that was benched during the year?
Even though he finished with 4,495 career rushing yards in his four-year career, breaking Pat White's NCAA career record for rushing yards by a QB, not all of that came at QB. He finished the 2012 season with 1,266 yards rushing on 177 attempts for a 7.2 average. That came with seven TDs. The reason he was benched, though, was because of the lack of execution in the passing game. Robinson completed 53.3% of his passes — the lowest of his career since he was made starter — for 1,319 yards, nine TDs and nine interceptions. Needless to say, that's very mediocre.
Michigan finished 8-5 in 2012, finishing their year with a loss in the Outback Bowl. Robinson's worst game of his career came last year against Notre Dame, in which he had five turnovers.
Compared to other cover athlete finalists, Robinson had nice rushing numbers. But since he's a quarterback, his body of work for last year needs to be taken into account, and last year was a disappointment. Alabama running back Eddie Lacy ran for 1,322 yards and 17 touchdowns last year. He also dismantled an impressive Notre Dame defense in the 2013 BCS National Championship, winning offensive MVP honors in the process. Denard Robinson watched the game on TV.
Kenjon Barner, running back for Oregon, was also a finalist. He rushed for 1,767 yards and 21 touchdowns with a 6.4 average.
In 12 games, Georgia linebacker Jarvis Jones recorded 85 tackles, 24 tackles-for-loss, 14.5 sacks, one interception, seven forced fumbles and two fumbles recovered. He's highly sought after in the 2013 NFL draft and will be picked in the first round.
Another QB in the running was FSU player EJ Manuel, who led the Seminoles to an ACC Championship and Orange Bowl win, finishing the season 12-2. Not only is he a better QB than Robinson — finishing with 3,392 yards, 68% completion, 23 TDs and 10 interceptions — but he's also going to be drafted as a QB in the NFL. Denard Robinson will likely go in the fifth or sixth round… as a wide receiver.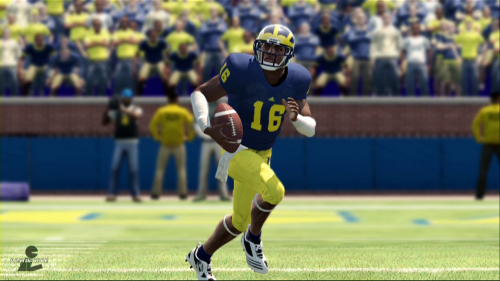 Image courtesy of Pasta Padre
I understand that we can't base the college football cover athlete on what they might do in the NFL. We should go on the 2012 season. If you ask Denard Robinson what he thought of his last season at Michigan, I'm sure he'd say that it was a disappointment.
I don't think a quarterback who was benched and finished the year at wide receiver and running back should represent EA Sports' NCAA Football 14. It's not up to me, though. It's up to the fans that voted, and the fans dropped the ball — much like Denard Robinson will probably do in the NFL considering he has a nerve issue.
I have nothing personal against Denard Robinson. I'm not an Ohio State fan, so my feelings don't stem from rival allegiances. The reason he won was because Michigan fans came out in droves to vote. Robinson was overrated in last year's NCAA Football game and won a lot of people games, I'm sure.
I just don't understand how players that had better seasons, accomplished more, won championships and MVPs, and weren't benched lost out to Denard Robinson. Maybe it was all those fake Facebook accounts that fans created to pad the voting. Regardless, Robinson is the cover athlete for a franchise that's looking to take a step in the right direction (and appear to be doing so) after years of maintaining the status quo. Robinson is trying to take a step toward the NFL after a mediocre 2012 season. So maybe the two are perfect for each other and fans nailed it…
[]_[]
You can follow Senior Editor Lance Liebl on Twitter @Lance_GZ. He likes talking sports, video games, movies, and the stupidity of celebrities. Email at LLiebl@GameZone.com