As reviews for the new iPad, or iPad 3, continue to roll in we are learning more and more of the third generation iPad's new features – particularly the 4G LTE.
The Verge confirmed in its testing with a review unit of the new iPad 3 with 4G LTE that FaceTime video calling is limited to Wi-Fi networks despite the fact that LTE offers greater bandwidth than many Wi-Fi networks.
We've just confirmed that although the new iPad has incredibly fast download and upload speeds over LTE, FaceTime video chat still won't work directly on the 4G network. As you can see in the positively vexing screenshot above (below for us), attempting to initiate a FaceTime call over LTE fails out with a message exhorting you to connect to a Wi-Fi network.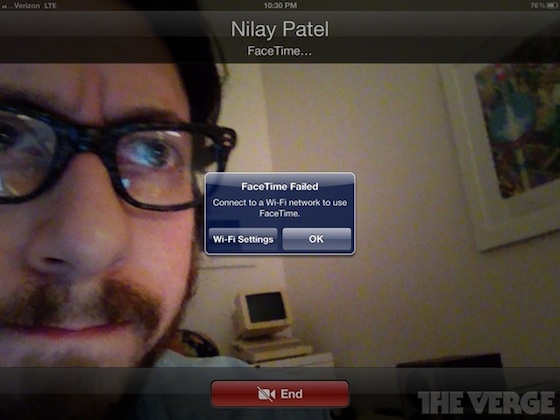 As the report notes, Steve Jobs claimed during FaceTime's introduction at the iPHone 4 media event back in 2010 that Apple needed to work a little bit longer with cell providers to "get ready for the future". Well, we're now in 2012, and it looks like we still don't have Facetime calls being transmitted natively over the carrier's networks, most likely due to concerns about increased data usage and strainged networks capacity.
While disappointed, I'm even more frustrated as Verizon's LTE plans for the new iPad include Wi-Fi hotspot functionality at no extra cost – technically allowing you to initiate a Wi-Fi hotspot from your LTE iPad and use it to make a FaceTime call from your iPhone.
The new iPad releases tomorrow with Apple stores opening at 8 a.m. local time, the company confirmed yesterday.
Announced last week, the third generation iPad includes a new Retina display, A5X chip with quad-core graphics, and a 5 megapixel iSight camera, as well as 1080p HD video recording and a estimated 10 hour battery life. Certain models will also support 4G LTE networks.
In a press statement, Apple said, "Customer response to the new iPad has been off the charts." The results have been fantastic for Apple, who noted that initial pre-orders have sold out, although customers can continue to order online and receive an estimated delivery date. The current estimated shipping date, according to the Apple Store, is two to three weeks from the purchase.
[via 9to5mac]