Eager beavers who just can't wait for Destiny: Rise of Iron to release can already get a taste of it, one of the new exotic weapons from the new expansion is already available and the Achievement/ Trophy list has been revealed.
Bungie took to Twitter to let Destiny players know that the exotic sidearm Trespasser is dropping early for players who are lucky with their engrams. The Trespasser also comes with some sweet stats, as exotics should, it comes with high fire rate, stability, and reload speed and seems to drop with a light level around 334. Though if this was planned or a mistake by Bungie is not clear, their announcement came a while after people all over Reddit are reporting that they are getting new exotic equipment with light level 334 or higher, both weapons and armor.
In any case, players with engrams stashed away can now test their luck and get some new Rise of Iron exotics 11 days before launch. After all, the recent Destiny 2.4.0 patch (according to Bungie) also brought most of the Rise of Iron content to Destiny, so it wouldn't be that strange if Bungie decided to release some of the new exotics a bit early or if the exotics managed to leak out of their Rise of Iron confinement earlier than planned.
"When Rise of Iron officially launches at 2AM Pacific Time on September 20th, you'll have most of what you need waiting on your console. That's what was contained in the update we made available for download [Thursday]."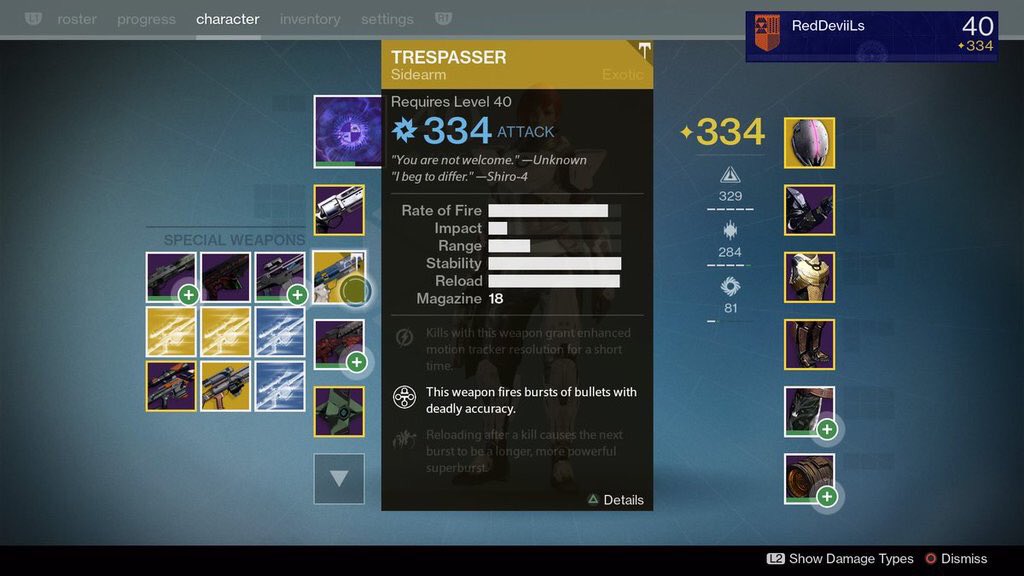 The Achievement list, or Trophy list, has also been revealed and there will be a total of nine new achievements for the Achievement hunters out there to collect in Rise of Iron, eight of which have descriptions and one secret achievement.
Mountain Climber: Complete the "King of the Mountain" mission.
The Young Wolf: Complete the "Rise of Iron" quest.
Student of History: Activate all Iron Lord Artifacts.
Sing the Iron Song: Classified.
Supremacy: Complete the "Glory and the Taking of It" quest.
Eye for an Eye: Complete the "Kovik's Sin" quest.
Forging Ahead: Complete an encounter in the Archon's Forge.
Spliced: Complete the "Wrath of the Machine" Raid.
Splicer God: Complete the "Wrath of the Machine" Raid on heroic difficulty.
All this and much more will be available when Rise of Iron releases on September 20 for Xbox One and PlayStation 4.