Hello everyone, do you still care about current generation?
Oh, you do?
Okay, good, because I was beginning to get a little worried after today's Xbox Reveal event and the Twitter support/backlash that followed. Anyhow, DICE has confirmed that the May Battlefield 3 double-XP event will be running from May 23-27 for a total of 96 hours.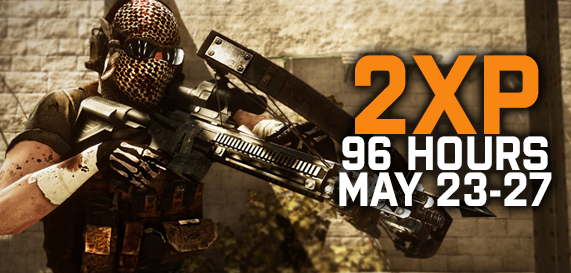 We're happy to announce the new dates for our upcoming double XP event in Battlefield 3! The new dates are May 23-27, with a total running time of 96 hours.

What: Double XP in Battlefield 3

Who: All Battlefield 3 players on all platforms

Criteria: Ranked servers, all maps and modes

Running time: 96 hours total
If you're wondering when double-XP will go live for your region, you can take a look here. As a shortcut for most of you, we'll confirm that you can get in on the double-XP action on Thursday at 2 a.m. PST, 5 a.m. EST (or 10 a.m. in London).
Source: [Battlefield Facebook]