E3 2012: NBA Baller Beats hands-on preview
Since its launch in 2010, we've seen some pretty spectacular (and stupid) products come from Microsoft's peripheral, Kinect. We've experienced its highs, Dance Central, and we've also frowned through its lows, Hulk Hogan's Main Event, but we would be foolish not to say that it has created some experiences that a controller could just not do. If you're looking for one of these unique titles that are truly Kinect exclusives, then look no further than NBA Baller Beats and our E3 hands-on preview.
NBA Baller Beats' premise is quite simple — it's Guitar Hero/Rock Band meeting Basketball, or specifically, dribbling. Using Kinect's groundbreaking functionality, players will be able to dribble their basketball along to the beats of over 30 songs with up to eight players locally. Yeah, we know, it sounds like a foolish idea, but after leaving the Majesco booth, we were quite intrigued by this upcoming title (stay with us here).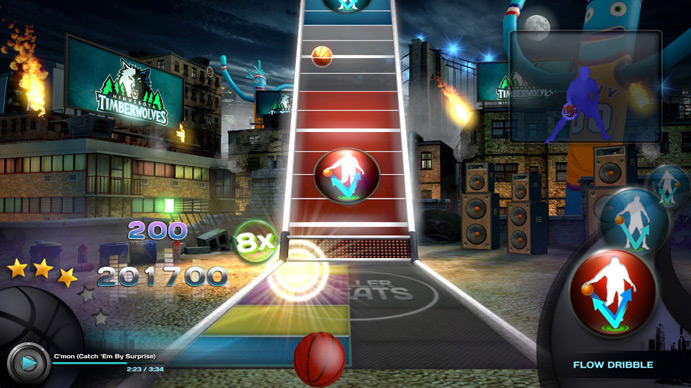 After sitting through a demonstration with several well-known basketball icons including And One's "The Professor," we were handed a ball and told to "do our thing." After navigating the menus using Kinect's controller-free feature, which was noticeably "loosey goosey," we picked a notorious song rapped by one of the industry's fastest hip-hop artists, Busta Rhymes, and were set to go. As our song began pumping through the play area, we quickly noticed how accessible the game was for newcomers and how difficult it was to master for those of us with a prior basketball background. Beats are successfully recorded with a spot-on dribble, and while that's a centric focus for the title, it's not all the game has to offer. Indeed, NBA Baller Beats ships with over 20 basketball moves including pump fakes, crossovers, behind the back, and more. The variety keeps the action up to speed, while keeping your focus in tact as well.
By the end of our four-minute song, we had several questions for our guide. As many of you are most likely wondering, we had to ask, "How does this game work on carpet?" I mean, I highly doubt any gamer will bring their console and Kinect outdoors to rock out. Thankfully, we were told that the basketball included with every copy of the game (an NBA licensed Spalding basketball) works on any type of carpeting, wood, tile, etc. We even tried it on carpet ourselves and were surprised just how responsive the ball and Kinect were to our movements. In addition, before our preview, we pondered if this game could truly "teach you how to become a better basketball player," as the game directly advertises, but even after one song we noticed that our rusty skills became polished significantly. So just imagine what can happen with hours of time invested in the game?
We're not saying that NBA Baller Beats will be the Kinect's "killer app," but we're not denying that it's a fun and somewhat addictive game that resurrects a seemingly dead music genre. With a killer line-up of tracks ranging from Busta Rhymes to Queen, fantastic Kinect tracking, and a slew of courts to get your groove on, sports fans will undoubtedly have a good time with Beats. As the old saying goes: don't judge a book by its cover. Hopefully this game continues to prove us wrong as it dribbles its way into your living room.
About The Author
In This Article
From Around The Web
Comments
blog comments powered by

Disqus