Our wishlist for the next Madden NFL game
Since 1997, there's only been one year where I did not buy a Madden NFL video game. I love football. I love the NFL. I love the Denver Broncos. And I love football video games. Madden is the only way I get to solve my need for a football video game, so of course I want it to be the best it can possibly be. So here's my wishlist for features/fixes I want to see in the next Madden.
Create plays
Once upon a time, you could create your own formations and plays in Madden. I believe it was somewhere in the Madden '03 to '05 range. As long as the formation fit with the NFL rules, you could make it. Players created wishbone formations and designed screens and run plays. It was fantastic. And then it was gone. The Madden fanbase has a ton of good ideas for formations and plays; let us be the football geniuses we think we are.
Custom logos and uniforms
I love the cities you can move to in Madden 25. What I don't like is that each city only gets three options for a team name / logo, and each one of those have three pre-designed uniforms – all of which are terrible. They're all either hideous or look like a uniform already in the NFL. There's no creativity put into them, which is strange considering how much uniforms are changing. Just look at the Seattle Seahawks! Look at any college team! This was another feature removed from Madden. Give it back to us. Heck, give us teambuilder!
Revamp the presentation
I still don't feel like I'm watching an NFL broadcast. The biggest change would come in having different network styles, or maybe an NFL Network broadcast theme. At least get some new announcers in there. We need something fresh.
New scouting
I still don't love the scouting. I think it's better, but there's got to still be a better alternative out there. One of the problems is that I can tell which three players from every draft class are going to be stars due to the Stories and Tweets section. I like seeing that, but maybe don't necessarily have it only highlight three players throughout the season who are sure to be good picks.
Better roster management
I want a legitimate option to switch a player's position. Not just placing a player at another position and hoping they don't drop 20 rating points. If I switch my team's scheme, there should be an option (outside of editing players) to switch a pass-rushing 3-4 OLB to DE. Also, how about making auto-subs actually work, as well as the third-down RB option.
Offensive and Defensive Coordinators
Expand coaching staffs to include offensive and defensive coordinators. Most coaching vacancies are filled by hot coordinators. A good coordinator can positively affect a locker room; right now, that doesn't translate in Madden. I'd also like to see retired players become coaches.
Bigger difference between players' speed
Is it just me, or does it feel like defensive tackles are just as fast as most of the runningbacks and receivers. In the NFL, there's an obvious speed difference when it comes to the fastest players in the NFL. The speed threshold slider feels like it doesn't make a huge impact either.
Expansion team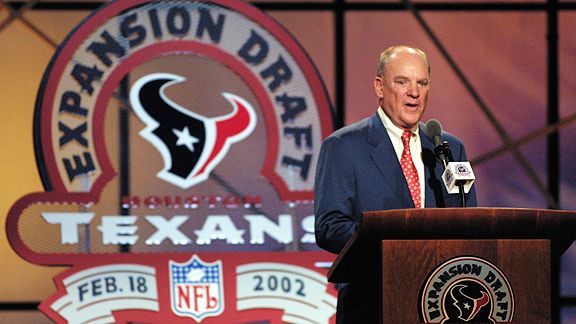 One of my favorite entries in the Madden franchise is the year the Houston Texans came into the game. Every team had to make a certain number of players available from their roster to be entered into an expansion draft for that team. It was a lot of fun. I think adding a mode to bring an expansion team into a franchise would be a welcome breath of fresh air.
Halftime show or weekly recap
I think it was Madden 97 that had a weekly recap live-action video that showed highlight. And Madden 10 at least showed what was happening around the league and highlights of your game. Now we get nothing. 1997 had more than 2014 has...
The ability to play an Online Connected Franchise game against another user-controlled team OFFLINE!
When my brother, friends and I played an Online Dynasty in NCAA Football, we got together and played games against each other offline so we wouldn't have an issue with lag. It was fun. We'd get together and make nachos and get burgers and drink beer and trash talk. Can't do that with Madden NFL 25's Online Connected Franchise. Not an option. We tried everything. Doesn't work. So we played our game online, there was a lag spike, and it kicked me from the game for supposedly grieving. That's why we want the ability to play those games offline against our opponent.
Re-branding
The Dolphins, a.k.a. The team that's battling the Browns and Raiders for the worst franchises in the NFL, re-branded their team last year with a new logo and uniforms. Sometimes you don't want to have to relocate your team to change your colors. Sometimes you just want to create brand-new, customizable uniforms with the colors you want and keep your team in Denver.
The Draft interface
Awful. It's just awful. Change it.
Challenge a play overhaul
This is flat-out broken. You never have the power to challenge a play. I don't understand how this feature worked better the first year it was implemented than it does now.
Wind direction
Why is the wind direction the game is telling me wrong? It's always opposite. Do you know how many kicks I have missed because I was trying to adjust for the wind, only to realize I'm hurting myself by believing what the game is showing me?!
Player ratings
Players in Madden NFL 25 have two different ratings depending on where you're looking at them. When you're not in a game, it's showing you the players' ratings when they're in your scheme. When you're in the in-game depth chart, it shows their "real" ratings. How about you show us both at all times so we can compare the two with other players? How hard is it to have their real overall rating and their rating for our scheme on the same screen?
Change overall look of the menus
The menus aren't very intuitive. Not much more to say about that.
Trading Block
Okay, this really annoys me. In the Trading Block screen, you can only see who other teams have on the Trading Block. And it's not as intuitive as the Trading Block used to look. Also, why can't I add players from my team to the Trading Block from that screen? And why can't I see who I have on my Trading Block? Why do I have to go to Player Management to add a player to the Trading Block? And let me see all the ratings and stats for a player from the trade screen. Geez.
You can follow Senior Editor Lance Liebl on Twitter @Lance_GZ. He likes talking sports, video games, movies, and the stupidity of celebrities. Email at LLiebl@GameZone.com
About The Author
In This Article
From Around The Web
Comments
blog comments powered by

Disqus