NCAA 13 Heisman Challenge Tips: Desmond Howard
NCAA 13 launched on July 10th with a slew of new features. The most notable among them is the Heisman Challenge, where you take one of 16 players, put them on any team, and play a season as them. This series is going to feature tips on using each player, as each one will control and play differently. Well without further ado, here are some tips on how to make the most out the Heisman Challenge. You can check out my previous NCAA tips here:
Heisman #4: Desmond Howard (I used USC)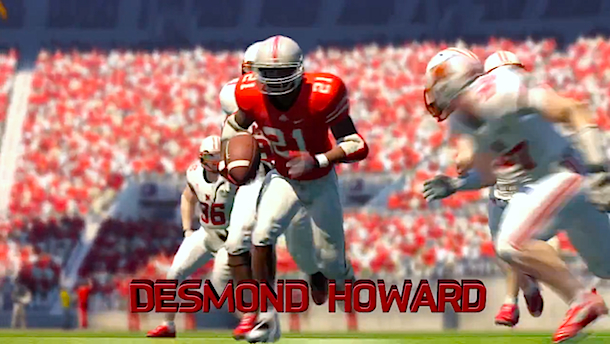 Desmond Howard is the only wide receiver available in the Heisman mode. He also happens to be the best kick and punt returner out of the entire 16-player group. Playing receiver in the Heisman challenge gives you the least amount opportunities to directly impact the game, unlike the quarterback position that gives you full control of the offense. I picked USC because they had the top rated quarterback in the game, although at times he didn't throw great passes.
Pro Tip #1: Don't be afraid to break off the route – When playing as Desmond Howard, I decided to break off the route almost 50% of the time. Although you can have the CPU run the routes for you if you're not comfortable doing them, I would advise you steer clear of the safety whenever possible. The quarterback throwing you the ball likes to bullet pass as well, so make sure there are no defenders below you to intercept the pass.
Pro Tip #2: Speed doesn't always win – Early in my Heisman career, I was relying too much on Desman Howard's speed. While this worked against low rated teams, I soon found out that it wasn't creating sustainable yards or catches for my player. Catching a 10-yard slant pass is more successful than going deep and not making a catch. If I had focused more on becoming a possession receiver earlier in the year, I would have put up even more insane numbers.
Pro Tip #3: Catch and go – It's one thing to catch the football, its another to catch the ball and head upfield. If you catch a pass in traffic, don't try more than one juke or you'll be a sitting duck for the defense. I would recommend skipping the juke or spin move and trying to gain as much yards as possible before the defense inevitably catches you.
Pro Tip #4: Use the post route – If you're not familiar, a post starts up the field like a deep pass, then the receiver runs towards the middle of the field while heading for the end zone. This was the most effective route that I used as the safety would have to choose who to cover and showcases Howard's speed going deep. If your quarterback puts air under the ball, you should be open for a score.
Pro Tip #5: Use reaction time during key moments – Reaction time is obviously tremendously helpful in your quest to become a Heisman trophy winner. I would use this mode whenever the quarterback threw the ball, that way I could see where it was going in slow motion and be able to angle my body to make the catch easier. Blocking out the defender is key, especially in jump ball situations. Try to attack the ball at an angle that shields the defender and gives you the best chance for success. This is much easier in reaction time than it is during game speed.
If you follow these tips, you'll have a great shot at winning the Heisman for your superstar. Again, make sure you pick a team with a top rated quarterback if you want to be really successful.
What did you think about Desmond Howard in NCAA 13? Who would you like me to cover next? Let me know in the comments below.
Follow me on Twitter at @AlexEqualsWin and Gamezone at @Gamezoneonline
About The Author
In This Article
From Around The Web
Comments
blog comments powered by

Disqus