Interview: Major Nelson talks Halo Wars 2, E3 2017, and Project Scorpio
Looking at Xbox in 2017
Last week, I had the sincere pleasure of speaking with the director of programming for Xbox Live, Larry Hryb AKA Major Nelson. At a livestream event for Halo Wars 2, we discussed the game itself, planning for this year's E3 and confirming more details about Project Scorpio! Feel free to watch the video above or read the transcript below. Or do both! Because Larry is that cool
Tom: So Larry, we're not just here for an interview. There's a really cool event happening tonight. If you could just tell us why we're here.
Larry: We're getting ready for the launch of Halo Wars 2, coming to Xbox and Windows 10. Really excited about that and this is a pre-event we're doing at some of our stores around the country. I love New York. I love all my stores, but New York is kind of a second home for me being from the east coast and all. So here the developers are going to be showing off some of Halo Wars 2 that some folks maybe haven't seen yet and getting ready for next week's release.
Tom: Halo is obviously a big franchise for Xbox, [which is an] understatement. Very integral to the platform's success. [The first] Halo Wars was a very well-received real-time strategy game for both the Xbox and the PC. Probably a lot of new players that haven't played the original jumping into Halo Wars 2 as their Halo Wars experience. I assume you've played some of the game?
Larry: [chuckles] Yes.
Tom: What are some of your favorite parts of the game that people should look forward to and get excited about?
Larry: I think what we need to point out is that this is a real-time strategy game set in the Halo universe. Every other Halo game, for the most part, is a first person shooter. That's what Halo is known for. And what this does is it brings that real-time strategy element, and perhaps addresses an audience that would never really think about it. Someone who maybe doesn't like first person shooters. So this takes some of the beautiful elements; the story and the characters and brings them into a real-time strategy game. 343 [Industries] did a beta with it last month, and I think it was very well received. So I think folks that like strategy, that like wonderful characters and a wonderful story; this is the one they're going to want to play.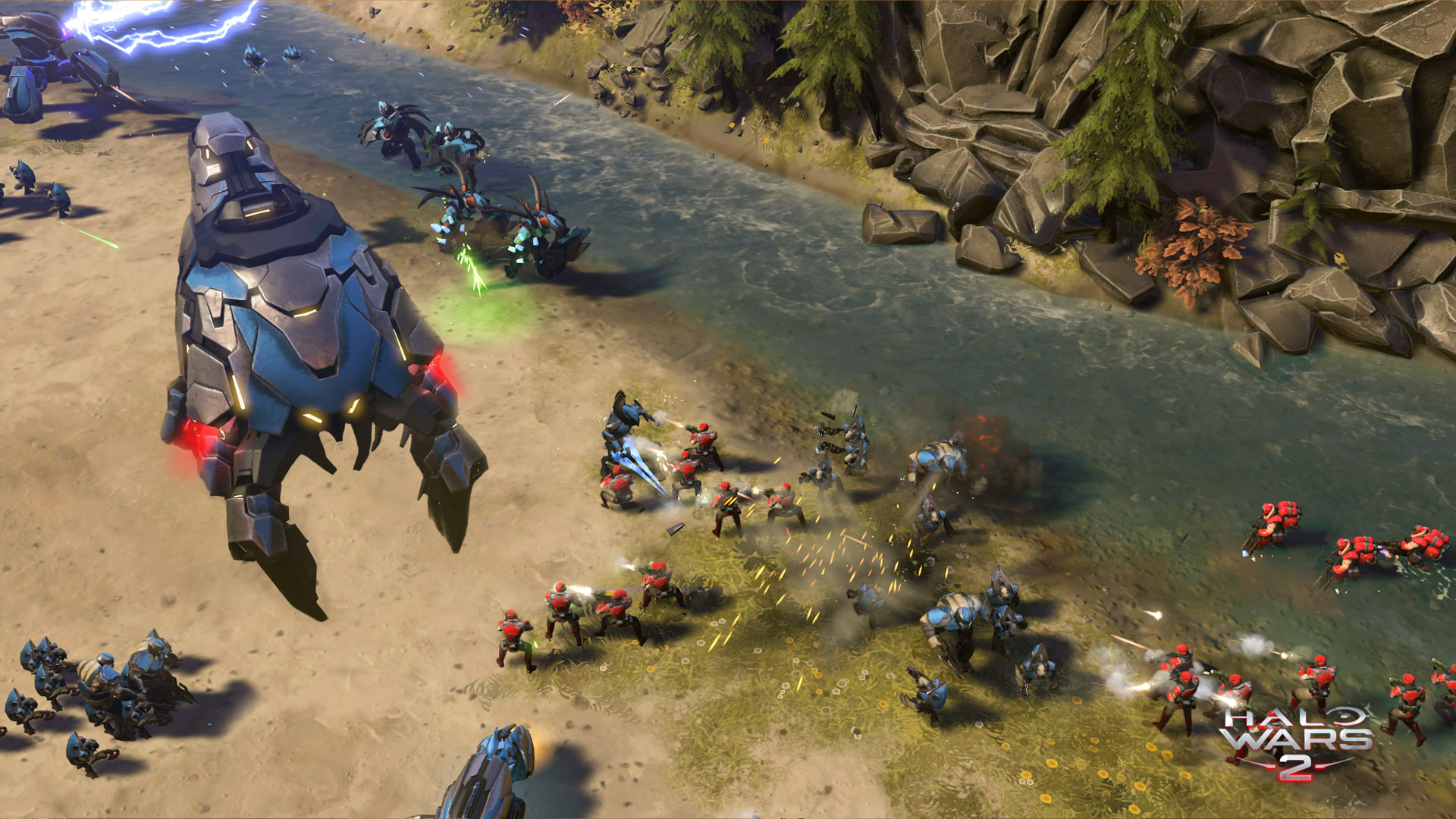 Tom: Now speaking of the event itself; this is a big deal. A lot of Microsoft employees probably wasn't cheap to fly you out from Seattle. I'm sure you've got a nice hotel room. What is the biggest benefit to an event like this where you can get the community together versus just putting out the game and hoping for the best?
Larry: One of the great things about Microsoft stores; we have a chain of them around the country. What's great is it allows me to go into a community I usually wouldn't go into. I certainly go to New York all the time and LA all the time. But I've opened stores in Syracuse, Jacksonville. I opened one in Edmonton up in Canada. This allows us to get into the community. Now the reason we're here is because this is our flagship store. Growing up in Connecticut and coming down to New York many times; this is coming home for me. More importantly, when I heard you were coming to do the interview, I said: "I have to go to New York!" I was like "Tom's coming?! Book my air! I'm there."
Tom: [laughs] Can you maybe talk about your upcoming schedule? You're always interacting with the community. What are some of the events people can see you at going into the rest of 2017?
Larry: I'm working on a Ghost Recon event, which is great; a lot of fun. I'll be up in PAX East in Boston, doing my panel there with a couple of surprises. And then next we're kind of getting ready for E3 which we've been planning since December. I can't even think beyond that because we're launching Project Scorpio later this year. Right? Forgot to mention that! Name drop!
Tom: Any tidbits on what we can see with that?
Larry: I can just say we're very excited about it.
Tom: Have you played it?
Larry: Even if I did, I couldn't tell you.
Tom: You'd have to kill me.
Larry: Well, perhaps maim, but I've been talking to some of the folks that have been working on it. They're really excited about what it can do, but what we're really excited about is the vision of it. A new member of the Xbox family, where your games can go forward with it.
Tom: So when Halo Wars 2 comes out next week, you can pick up a Scorpio and it'll be playable on that.
Larry: Sure! And it's a Play Anywhere title so that means when you buy your copy on Xbox you get your copy on Windows 10. The saves go back and forth. It's going to be great!
Tom: Thank you, Larry. I look forward to the numerous more interviews we'll be doing together.
Larry: [laughs] I look forward to seeing you at E3 and when I come back out [to New York] again.
Tom: And I'll be at PAX East.
Larry: We can talk again then!
About The Author
In This Article
From Around The Web
Comments
blog comments powered by

Disqus