How online franchises are changing sports games forever
Sports games used to be about beating the computer for a championship and embarrassing your friends when they came over to play against you. Sports games then evolved into playing your friends and random strangers online at the tail end of the PS2/Xbox era and was fully realized this generation with advances in technology and high speed Internet. This year though, sports games took another massive leap in connecting you, your friends and the sports you love by introducing Connected Careers in Madden NFL 13 and Online Association in NBA 2K13.
These modes are truly game changers that keep you coming back for more and keep your own league isolated from everything else in the game. I can't tell you how much time I've spent trying to get Andrew Luck as my franchise quarterback in Madden or trying to upgrade my NBA roster before my friend (and rival) John steals all the good Oklahoma City Thunder players before I can get to them. But it's this camaraderie and the ability to trash talk that makes the online Franchise work so well, even if you barely play your friends in the league.
These fantasy drafts are now a topic of discussion amongst my friends that are involved. Getting random texts like "Great, Julio Jones is injured for 5 weeks" and "I set the NFL record for touchdown passes at 15 in a game" are now common. This gives me a goal of beating a record my friend holds and the hope that I can play my friends when they're without key players. This in magnified when you log onto Madden and you see the Twitter personalities talking about your league, what has happened the last week and what records have been broken. It gives you an overview and makes your league feel real, even though it's just you and your friends on PS3/Xbox 360.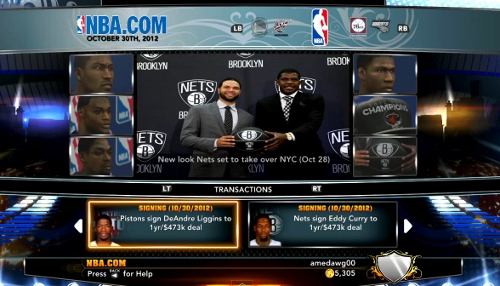 Fantasy Drafting is also a big hit in online franchises and is included in both sports games. It's all the fun of fantasy football and basketball but with the added pressure not to mess up since you're using these players for years. In NBA 2K13, you can't pick your spot in the draft so you have to be lucky (I got Kevin Durant at pick #2, John got Russell Westbrook at pick #8) and build your team around the players you get early. Making the wrong pick will put you at a severe disadvantage and hurt your chances of winning an NBA Championship.
There's something different about playing the computer when all your friends can see how you did and your season stats. I used to find the computer boring to play, but now I have a reason to beat them as badly as possible. Additionally, when you do get to play your friends, it's a lot more meaningful and fun since it's usually in the playoffs or championship game especially if you're in different conferences. These modes might have been missed if you just play competitively online or in pick up games against the computer but I suggest you give them a fair shot. I used to only play madden competitively but now I only play these amazing online franchises.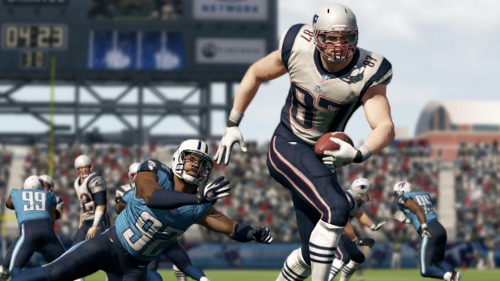 Online franchises have changed the way I play my sports games and I'm sure other people feel the same way. Give them a try and see if it changes sports games for you and make sure to talk lots of trash to the people you beat.
Do you like video games, sports and fun? Follow me on Twitter at @AlexEqualsWin and Gamezone at @Gamezoneonline
About The Author
In This Article
From Around The Web
Comments
blog comments powered by

Disqus