Hands-on: Super Mario Run feels right
Nintendo have a hit on their hands
After appearing on Jimmy Fallon the other night, the Super Mario Run demo became available on iPhones and iPads at Apple Stores nationwide. I stopped by my local retail location to play and while it doesn't feel exactly like classic Super Mario Bros., it does feel like the right way to experience Nintendo's most famous character on smartphones.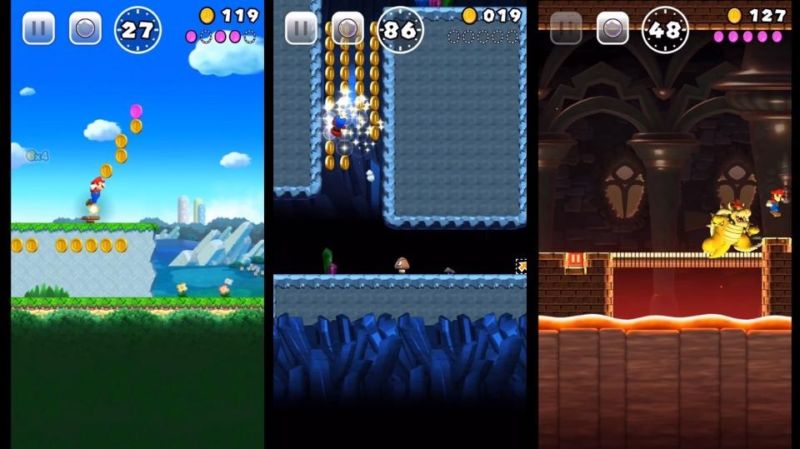 Super Mario Run takes inspiration from great mobile games such as Canabalt and Rayman Adventures. Mario will continue to run across the level, with you tapping and holding on the screen to jump. You can collect coins, jump on enemies, and headbutt special bricks just like in the regular titles. Something is different though - the continuous movement completely changes up the gameplay.
If you die, a bubble will encapsulate you and bring you back to wherever you decide to be dropped off, but there is no other way to try and collect coins you missed previously and remember: you're against a timer so you need to reach that flagpole. Otherwise it's game over. Likewise, if you die more than twice the game will end too. There are also colored coins to collect through the level, which change location if you catch all five.
Despite the fact that you can't control the speed at which Mario moves you do have a surprising amount of fine detail when it comes to how high you can make him jump, which can radically change how you progress through the course and adds tremendous replay value. You'd assume endless running would run you right into an enemy and kill you but the game has you automatically vault over enemies. The only way they can kill you is if you mistime a jump.
The two additional modes, Kingdom Builder and Toad Rally were unavailable in the demo and there's only a few playable levels of World Tour. However, what I did play has me excited for what Nintendo is going to do for their properties on mobile. This isn't a tie in; this is a proper Super Mario title. There was a lot of fear that if Nintendo moved to mobile, it'd cannibalize their software sales on their own hardware. If the Nintendo Switch trailer is any indication, there's going to be plenty of reason to pick up the Mario game for that system when it releases.
Super Mario Run feels familiar with an injection of what makes the few great mobile games so compelling. People have been wondering why it has taken Nintendo so long to get to this point, but to me it speaks to their love of their franchises. They want to absolutely perfect their gameplay before making such a huge step for the company. The game will be available for iOS on December 15th for $9.99 when I'm sure it'll make the company tons of money. And I'll happily give it to them.
About The Author
In This Article
From Around The Web
Comments
blog comments powered by

Disqus