Originals
Originals
The 100 Best Movies of the 2000's: 20-11
[Continued] Page 2
18. The Artist (Michael Hazanavicius, 2011)


My favorite movie of 2011, The Artist is a delightful ode to Silent Film and the Golden Age of Hollywood. Adorable and almost insufferably pleasant at points, it is not afraid to visit some dark psychological places, all through the sheen of old-timey silent feelgoodery. More than that, it is not afraid to play with it's format, and in doing so, say some wonderful things about speech, communication, and entertainment.
There's also a dog that is so cute you will freak out, and the main girl (Berenice Bejo) has the single greatest smile I've ever seen on a human. You will melt. Seriously.
17. The Royal Tenenbaums (Wes Anderson, 2001)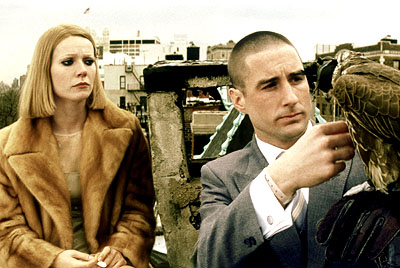 Many people, understandably, have Wes Anderson Fatigue. If you're not a fan of pastel colors and whimsy, that's a totally valid reaction to have to his work, but I feel that his wildly original voice more than makes up for the excessive cuteness. And of all his films (which, for the record, I enjoy every single one) Royal Tenenbaums is, unquestionably, his masterpiece.
In telling the story of Royal Tenenbaum (Gene Hackman), a man who fakes cancer to spend time with his estranged children, Wes Anderson uses a wide variety of screwed up characters to make all sorts of great points about family, love, and how awesome that instrumental cover of 'Hey Jude' is. It may also break your heart a bit along the way, which is always a plus.
Comments