Originals
Originals
The 100 Best Movies of the 2000s: 80-71
[Continued] Page 3
76. Thirst (Park Chan-Wook, 2009)
Vampries are everywhere these days, and it seems like most of them are sparkling. There are those of us, however, who know that vampires are supposed to be scary. Thirst is about a priest who finds himself, suddenly, a bloodsucker, and now has to reconcile that fact (and his thirst for blood) with the beliefs he has previously held dear. The movie takes some crazy turns, and it all leads to the most tense, suspenseful final fifteen minutes I've seen in a movie in a long time. Featuring an amazing lead performance by Song Kang-Ho (Or, as I like to call him, Korean Gary Oldman), and shot beautifully by Park Chan-Wook, Thirst is vampires as they should be.
75. The Trip (Mich​ael Winterbottom, 2011)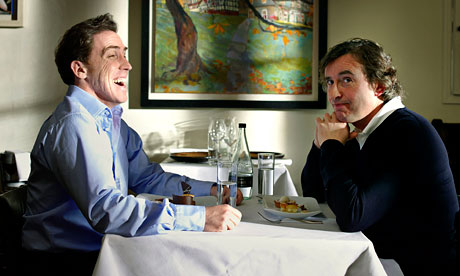 There's a decent chance you've seen a clip of this movie, the one where bitter, depressed comedian Steve Coogan (playing himself) and his jolly, obnoxious friend Rob Bryden (also playing himself) compete in dueling Michael Caine impressions, lecturing each other (as the famous actor) on how to do the perfect Michael Caine. This scene perfectly sums of the comedic brilliance of Michael Winterbottoms melancholy, hilarious road-trip comedy. Striking just the right balance between humor and sadness, The Trip feels just like tagging along on a road-trip with two friends.
Comments