Team Fortress 2 gets new weapons, goodies and game mode in holiday event
Hope you're on the 'Nice' list.
The time to give thanks is over, it's the season of giving now and Valve knows exactly what to give you for the Holidays. Technically, you'll only enjoy this gift if you play Team Fortress 2, so, if you don't play TF2...then I really don't know why you're here.
While you wait for your team to group up and look pretty for a holiday card photo, Valve is bringing up a list of implementations, new weapons, stocking stuffers and, well, general stuff.
Let's take a look (it will be a long read my friend):
Valve is bringing a new game mode titled Mannpower to TF2 Beta maps. Mannpower is essentially a beefed up version of Capture the flag. It will come with 8 permanent powerups - players can only hold one at a time and will they will be dropped upon death. The command 'dropitem' will remove the powerup from your character. When you spawn, you will be invulnerable for 6 seconds.
Next up we've got new weapons! Check 'em out below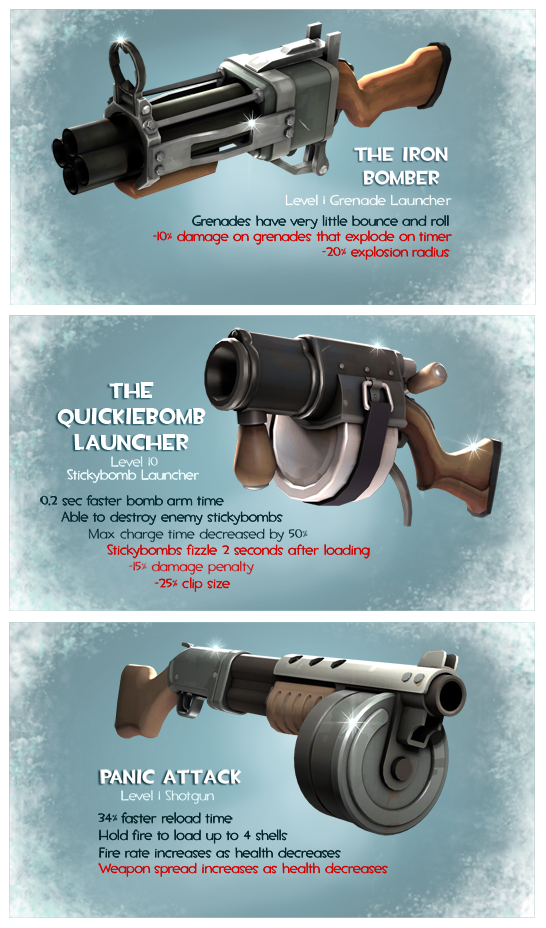 If you log in to play during the Smissmas event you get a Stuffed Stocking, it will come with tons of goodies for you...so be sure to check it out. The event will also include 29 limited community-contributed winter items (and new weapons) to the Nice crate. Naughty and Nice crates will only be available until February 16th, 2015 - so get 'em while they're hot! Oh, and Premium Players will get a Secret Saxton to give to other players, it will re-enable grants from previous events.
As for general changes - see them listed below!
MvM : Added chance to find Australium weapon rewards to all Advanced and Expert Mann vs. Machine tours. Previously only available on the Two Cities tour.

MvM : Added Killstreak kits for Quickiebomb Launcher, Iron Bomber and Panic Attack in to Two Cities MannUp loot tables
Crafting items that are marked as temporarily untradable will now yield temporarily untradable items instead of permanent
Fixed a client crash related to the material system
Removed the Giftapult from the store and added a crafting recipe for it
Updated the equip_region for The Beastly Bonnet
Updated the localization files
Removed the map restriction on players in karts respawning ghost teammates when they touch them
[Valve]
About The Author
In This Article
From Around The Web
Comments
blog comments powered by

Disqus