Rumor: Destiny 2 will get its first two expansions later this year and early 2018
I don't mind!
Last week Destiny 2 was revealed to the world alongside an epic trailer, as well as some details on various limited editions and the promise of two expansions. Now rumors have it that these expansions will come sometime between late 2017 and early 2018.
Announcing collectors editions and mentioning that there will be a Season Pass is pretty common, but showing the release schedule this far ahead is not. As per usual, this rumor comes from some dude on Reddit who knows some dude who works at GameStop and apparently GameSpot received an internal memo from Bungie giving some further details on when the two announced pieces of DLC will be released. According to it, the first two expansions will be released winter 2017 and spring 2018.
"The Destiny 2 Expansion Pass includes reservations for both Expansion 1 and Expansion 2, which will be released in Winter 2017 and Spring 2018, respectively. The Expansions offer brand new story missions, cooperative activities, competitive multiplayer, and a wealth of new weapons, armor, and gear."
While it's easy to criticize Bungie for already having DLC ready to go out almost a year in advance, five months before even the game has been released, it's important to remember that Destiny is more like an MMO like World of Warcraft and needs a constant flow of new content. Besides, most games these days release DLC in about the same pace that Bungie has planned, it's only that their plans got leaked.
You can read the memo bellow and see what you think, if it's legit or not. PC Gamer reached out to a Bungie representative, though they had nothing to say about these rumors.
Even if this particular rumor is false, the schedule it about the same for when they released the two first expansions for Destiny 1.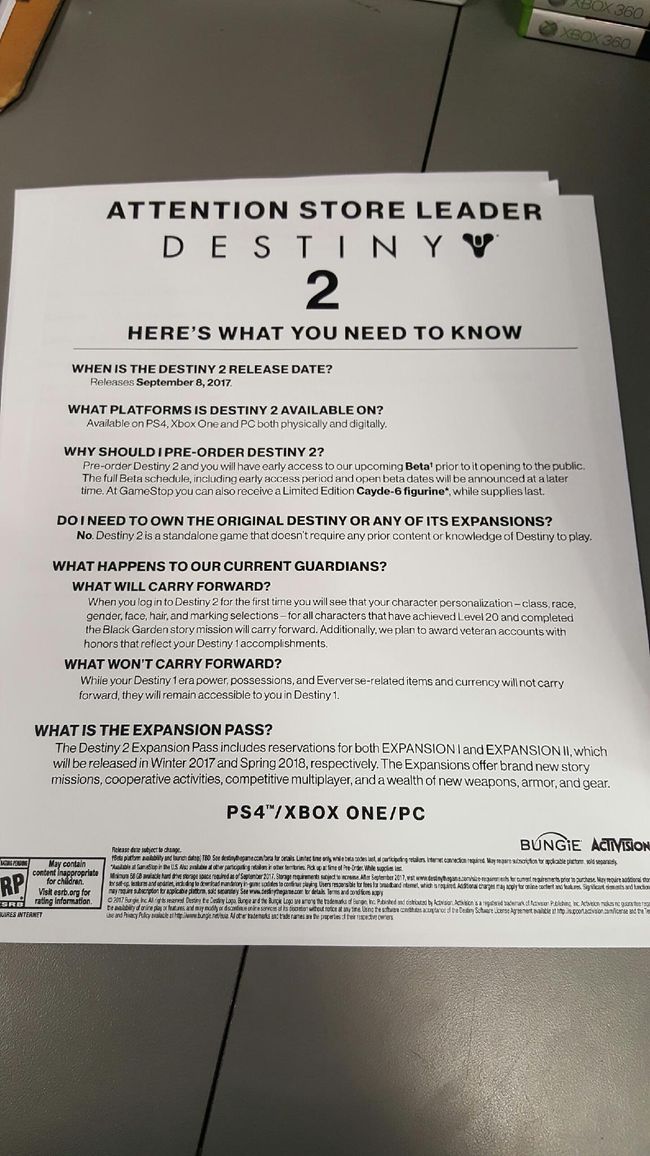 About The Author
In This Article
From Around The Web
Comments
blog comments powered by

Disqus