GTA 5: The Business Update now available for GTA Online
Grand Theft Auto 5's The Business Update has been released, and all of its content should now be available in GTA Online.
As a reminder, the new add-on brings three "blazing fast" sports cars: the Albany Alpha, Dinka Jester and Grottie Turismo R, all of which can be purchased from Legendary Motorsport. For those who prefer travel by air, you can find the Vestra luxury jet available for purchase from Elitas. In addition to transportation, two new "high-powered" weapons are available at Ammu-Nation: the Heavy Pistol and Special Carbine automatic rifle.
You can also find a whole slew of business attire, both formal and business casual options, like new suit jackets, slacks, glasses, heels, and blouses. All-business hairstyles and currency themed tattoos, along with a collection of new masks, can also be purchased.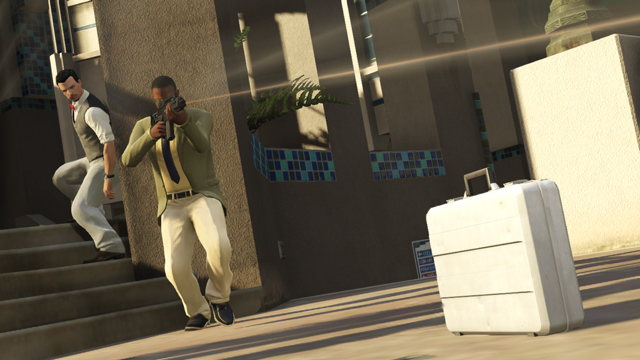 Lastly, Rockstar has added 14 new Jobs to GTA Online, many of which are inspired by The Business Update. Four of the new jobs are Land Races designed specifically for the Sports and Super class cars. Another four are Air Races in which you can take the new Vestra airplane for a spin.
There's also a pair of new Vehicle Deathmatches featuring the Buzzard and the Rhino Tank, plus a new Last Team Standing in Little Seoul, a two-team Capture at Los Santos City Hall and a new Survival around the Maze Bank Tower.
The Business Update is accompanied by a brand new Title Update (version 1.11) which includes a host of additional updates and fixes, all of which you can read about here. Today's free title update update will be downloaded automatically upon booting up your game. Once updated, head to the in-game store to access and download the Business Update.
[Rockstar]
About The Author
In This Article
From Around The Web
Comments
blog comments powered by

Disqus