[e-Sports Dail-e] MLG announces Starcraft 2 Global Invitational, WCG cuts US spot 9/10
Huge news today folks! Strap yourselves in and please keep your arms and legs inside the vehicle at all times!
MLG Announces Global Starcraft 2 Invitational
Yesterday, via MLG's website, the organization announced the MLG Global StarCraft2 Invitational, a 24 player online event that will play host to some of the world's best players. Taking place over a 2 month span, the players will compete in three regional brackets, featuring North America, Korea, and Europe. Players from each region will look to battle their way through the bracket in the hopes of making it to the Grand Final, held live at the 2011 MLG National Championship in Providence, RI on Friday, November 18th.
The event will be broadcast by Artosis and MLG regular JP McDaniels, so it's sure to be an excellent watch.
MLG provided the following information with the announcement:
The Format
Each bracket will consist of eight players from that region, who will compete in best-of-three matches in a double elimination tournament. In the end, the winner of each region will take home $2,000 in cash, and will also earn an all-expenses paid trip to MLG Providence, where they will take on the winners of the other two regions, and the Blizzcon Champion. These four players will play best-of-three matches in a single-elimination Finals for the Championship. The winner of the Global Invitational Finals will take home an additional $3,000, bringing the total winnings for 1st Place to $5,000.
Full Prize Breakdown
Regionals
• 1st in Region = $2,000 per player = $6,000 Total (plus all-expenses paid Providence trip) • 2nd in Region = $1,000 per player = $3,000 Total • 3rd in Region = $500 per player = $1,500 Total • 4th in Region = $250 per player = $750 Total • Blizzcon Winner = All-expenses paid Providence trip
Finals
• 1st place Global = $3,000 • 2nd place Global = $1,000
The Players
MLG has reached out to some of the best players in the world from each of the three represented regions. Here are the full rosters:
Europe:
• Naniwa • Sjow • Ret • Haypro • Thorzain • White-Ra • Jinro • SaSe
North America:
• Idra • KiwiKaki • Slush • Sheth • Tyler • Major • Destiny • iNcontroL
Korea:
• MMA • MVP • Losira • Boxer • Puma • Hero • Bomber • CoCa
More information, including the brackets, map pools and broadcasting schedule can be found here, at the official MLG site for the event .
World Cyber Games USA removes National LAN finals
Changes were made to the WCG USA program last night, announcing that due to sponsorship funding issues some serious cuts have been made. Team USA will this year not be sending a Counter-Strike team to WCG, as only winning teams in League of Legends and Crossfire will be sent to compete in Busan, South Korea.
Counter-Strike qualifiers will be played out online and will lead into an online national final, which will act as qualifier for WCG Pan-Am in São Paulo, where the winning team will receive a paid trip to Brazil, for the event which will take place November 4-6.
It is not just Counter-Strike teams missing the opportunity to go to Busan, also StarCraft II players will see the chance to attend WCG 2011 slip away, unless they wish to pay their own way to journey to Korea. Previously, the WCG covered these costs and will likely be a large deterrent to teams wishing to compete in the world finals.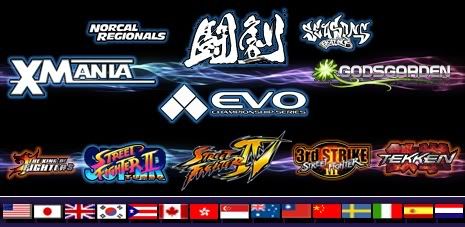 Massive Fighting Game Tournament database launched
A truly remarkable story today in the fighting game community as Super Street Fighter 2 Turbo veteran Dan "kuroppi" Painter has launched a massive database cataloguing major tournament results for the last 16 years. This will prove to be a major resource for the community, with fans new to the scene able to track different player's past performances, as well as get an in depth look at the history of given tournaments without having to dig through various forum postings or using Wikipedia.
This very impressive site can be found here .
Evolve: The Theme Song of EVO 2011
Doing something a little different today – this community effort was recently released as the theme song of Evo 2011. I thought this song embodied the competitive spirit of EVO perfectly.
Chills… Credit to RedRapper, IFCYipes, Mike Ross, Hara and everyone else involved in this project!
That's it for today's Dail-e! Tune in tomorrow for my weekly eSports editorial!
Dustin Steiner is Gamezone's eSports Correspondent! Follow Dustin on Twitter @SteinerDustin
About The Author
In This Article
From Around The Web
Comments
blog comments powered by

Disqus