[E-sports dail-E] Cross Counter LIVE, MLG Raleigh Shatters Viewership Records 9/6
Some exciting stuff tonight, so we'll not waste any time!
Cross Counter LIVE currently airing (11 EST)
Popular weekly competitive fighting game show on Youtube, Cross Counter, is having its first live show, streaming right now! Mike Ross and Gootecks bring you the best in fighting game news, strategies, highlights from tournaments around the world and are sure to offer up a few surprises this evening, so be sure to tune in below.
Watch live video from thestreamdottv's channel on www.justin.tv
If you missed it, the stream automatically saves and allows for watching later.
MLG Raleigh Shatters Viewership Records
Today Major League Gaming announced the viewer numbers from their recent Raleigh event. Breaking previous MLG records, MLG Raleigh pulled "an all-time high 138,000 peak concurrent online stream viewers." These viewers spanned 173 countries and consumed more than 3 million hours of video throughout the weekend.
What makes this all that much more amazing is that MLG was able to provide uninterrupted, 720p HD footage all weekend while Hurricane Irene was ravaging the East coast.
Major League Gaming CEO Sundance DiGiovanni said: The 2011 Pro Circuit season is proving to be our most successful to date with record breaking online viewer numbers for the past three competitions held in Raleigh, Anaheim and Columbus. Our goal this year was to expand our global footprint and we have succeeded by reaching millions of new fans around the world. Viewers can expect more high-quality streaming of our upcoming events in Orlando and Providence.
With Sundance's promise for more high-quality streams and the addition of games like League of Legends (seen in Raleigh), there really isn't anywhere to go but up. Expect to see more viewer records broken when MLG Orlando rolls around, October 14-16.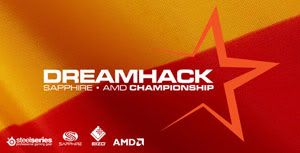 Dreamhack Valencia announced final 3 for Starcraft 2 Tourney
On the 17th of September, DreamHack will host its invitational in the beautiful Valencia of Spain. Already DreamHack organizers have been teasing the entire Starcraft 2 community, with players such as coL.MVP.DongRaeGu and EG.HuK. However, DreamHack still had three more spots to fill for Valencia, until now.
The press release is below: "The star players for DreamHack Valencia Invitational have now been set after the Spanish star LucifroN defeated his brother Vortix this evening. The last two players presented are no other than the Korean stars HerO and Rain who will fight for the 100 000 SEK on the 17th of September.
Around the corner is DreamHack's second Invitational hosted at beautiful Veles e Vents building located in the Valencia Street Formula1 Circuit and the 33rd America's Cup harbour. Tonight the Spanish Champion was decided between the two brothers LucifroN and Vortix. We welcome LucifroN to DreamHack Valencia Invitational and we are sure he will do an impact in the tournament. LucifroN is one of the most successful European WarCraft III players with great achievements, Runner up of Blizzcon 2008, ESWC Masters Cheonan 2009 Champion and winner of BlizzCon 2009 European Regionals.
DreamHack can present Team Liquid's newest addition to Valencia, HerO. The feared Protoss player had a strong showing at MLG Raleigh and just qualified for GSL October Code A. The last player to be presented is none other than Fnatics power Terran Rain who lives in USA nowadays. He was the runner up of GSL Open Season 3 and have had strong showings at the last two MLGs.
The Chinese player Infi has unfortunately canceled his participation due to restructuring of TyLoo's RTS division."
A list of all players participating is below: Eight Dreamhack Valencia Invitees Soo Ho 'DongRaeGu' Park Marcus 'ThorZaIN' Eklöf Pedro 'LucifroN' Moreno Durán Gregory 'IdrA' Fields Chris 'HuK' Loranger Johan 'NaNiwa' Lucchesi Song Hyun 'HerO' Deok Seo-Yong 'Rain' Park
Summer Jam MvC3 Grand Finals LB NYChrisG vs UVG Noel Brown
From the same tournament as yesterday's Moment, we have the grand finals! Enjoy!
That's it for today's Dail-e!
Dustin Steiner is Gamezone's eSports Correspondent! Follow him on Twitter @SteinerDustin
About The Author
In This Article
From Around The Web
Comments
blog comments powered by

Disqus