[E-sports dail-E] Bomber wins MLG Raleigh, ESWC Scandal, TTC signs Noah "The Prodigy" Solis
It's time yet again for another eSports Dail-e!
MLG Raleigh SC2 Results – Bomber takes the crown
Bomber entered the grand final with a 2-0 lead due to the extended series rule but lost the first set on Metalopolis after he could not survive Coca's endless swarms of banelings and mutas, streaming from both sides and surrounding his army times and times again. Coca continued to further display his skill in the second set, exploiting huge mistakes by Bomber - like bad tank positioning and undefended tech labs - to gain a huge lead but suddenly he was pierced by multiple marine attacks. Coca lost two of his bases and Bomber caught up in supply and with a final push the score was 3-1.
In the final set, Coca tried to break the terran with roach/baneling after defending his bunker rush but Bomber had too much of everything - marines, tanks and bunkers. After his spawning pool died to a marine drop and his desperate counter-attack failed, Coca tapped out, making ST_Bomber the MLG Raleigh champion.
Once again, the final standing were colored with Korean flags, taking top 6 in the tournament. The only foreigners that made it to the top 8 were EG's newest member HuK and Dignitas' Sjow.
MLG Raleigh Top 8 1st Bomber, $5.000 2nd Coca, $3.000 3rd DongRaeGu, $2.000 4th Nada, $1.400 5th Puma, $1.000 6th Her0, $700 7th Huk, $500 8th Sjow, $400
Can the Korean repeat this feat once again in Orlando? Probably, if he plays Terran. But we'll find out October 14-16.
Major Teams Threaten Boycott of Electronic Sports World Cup
ESWC last week announced the prize distribution for their 2011 event. With it followed information about the qualifying process, in which invited teams would have to pay $1,000 fee in order to participate.
The fee was not well received by six major teams, as they today went on to threaten ESWC with a boycott. The teams are the 2010 winners Natus Vincere, SK Gaming, fnatic, mTw, mousesports and Evil Geniuses. The teams stress that should ESWC keep the fee, then these six teams will not attend the 2011 event.
Alexander "ZeroGravity" Kokhanovskiy, Natus Vincere CEO, stated the following:
"We were surprised with the idea to implement a registration fee instead of holding national qualifiers. The decision itself contradicts with the concept of World Championship because anyone can now "buy" himself a slot in the Grand Final. If tournament organizers stay idle to what professional e-Sports teams demand, you will not see ESWC 2010 champions defending their title this year."
Lars Eiben, mTw CEO, also issued a statement expressing a similar distaste for the fee.
We are not willing to pay a fee for a tournament that, on the one hand, solely exists on our players, and on the other hand, we have to bear all the costs for accommodation and travel. All teams share this opinion and have agreed on this boycott. We have decided to make a statement. The sport primarily thrives from us, the clans, and in recent years we have repeatedly seen such scenarios, and we never resisted.
Due to the, we have decided that this is the last straw, therefore we are taking this measure. We are open for discussions and are willing to find a compromise. The next step has to come from the ESWC management.
This all comes following controversy last week as the ESWC cut $45,000 from the Counterstrike prize pool, and the teams have basically stated that the ball is now in the ESWC's court – if they wish to see the six teams at the event in October, they'll need to take action.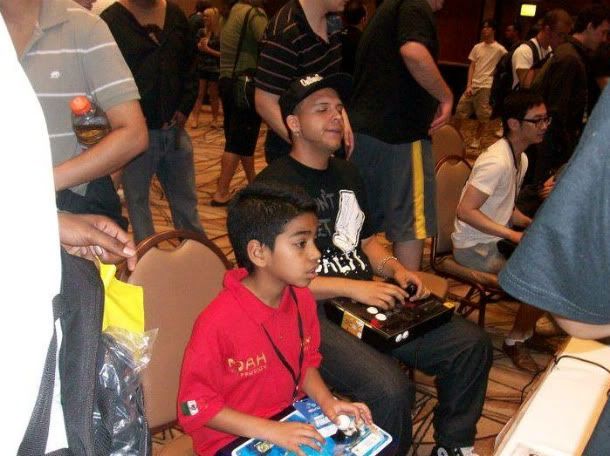 Fighting Game News - Noah "The Prodigy" signs with The Traveling Circus
Noah "The Prodigy" Solis, an 8 year old fighting game genius, has signed with new gaming team The Traveling Circus. He becomes one of the youngest players in professional gaming ever to be sponsored.
"I went with TTC as my sponsor because they treat me good, they are nice people, they give me hope in my future, and they believe in my ability," says Noah. "I like their name. They are nice to me, and my dad is comfortable with their character and my brothers approve."
Not only will Noah get to travel all over the world to compete for The Traveling Circus, he also scored his own clothing line, with designs reportedly by The Prodigy himself! I don't know about you guys, but I am definitely looking forward to seeing what will come from Mr. Solis in the future!
Noah "The Prodigy" Solis vs RoyalFlush at EVO 2011, MVC3
Keeping with the theme of the last story, we showcase The Prodigy's impressive skillset in MvC3, with very impressive Hulk/Sentinel/Wesker play.
Scary stuff. I wouldn't want to fight him. This kid will be the next Daigo, mark my words.
That's it for today's Dail-e! Keep it locked here at Gamezone for the latest and greatest in gaming editorials and news!
Dustin Steiner is Gamezone's eSports Correspondent! Follow Dustin on Twitter @SteinerDustin
About The Author
In This Article
From Around The Web
Comments
blog comments powered by

Disqus