Assassin's Creed 4: Black Flag Q&A session gives a glimpse of the present day, Abstergo situation
Assassin's Creed 4: Black Flag has been burning across the "Twitterverse" today, as Lead Writer on Black Flag, Darby McDevitt, took to the Assassin's Creed Twitter handle to answer questions regarding Black Flag.
Most of the questions answered during today's Q&A session where in regards to the present day situation at Abstergo Industries with your character. Below are several of the most intriguing answers Darby McDevitt provided.
Q: Are the cluster and glyph puzzles returning?

A: In a way... there are now various hacking games that reveal tons of secret Abstergo content. Become a modern day pirate!

Q: What country or location will the present day be set in & which characters will be in the present day?

A: Lovely Montreal, Quebec, actually... featuring a host of new characters, and a few old ones.

Q: Will there be open combat in present day? Can you free run in 1st person?

A: No combat in the present day, no. It`s all about exploring, eavesdropping, and hacking. Modern day pirate stuff.

Q: How does the character in present day get introduced to Abstergo?

A: You are the main character, and you are introduced to Abstergo by being hired to work there.

Q: Will there be dialogue options/ conversations in present day?

A: No...because YOU are the protagonist, we didn't want to put words into your mouth.

Q: Please tell me nothing awful is done to Desmond's body...?

A: I could say that, but it wouldn't make it true.

Q: Will you have a chance to see the owners of Abstergo entertainment?

A: A few of the bigwigs, yes.

Q: Will we have our own office/workspace in the building? A present day hub of sorts?

A: You mean something like this...?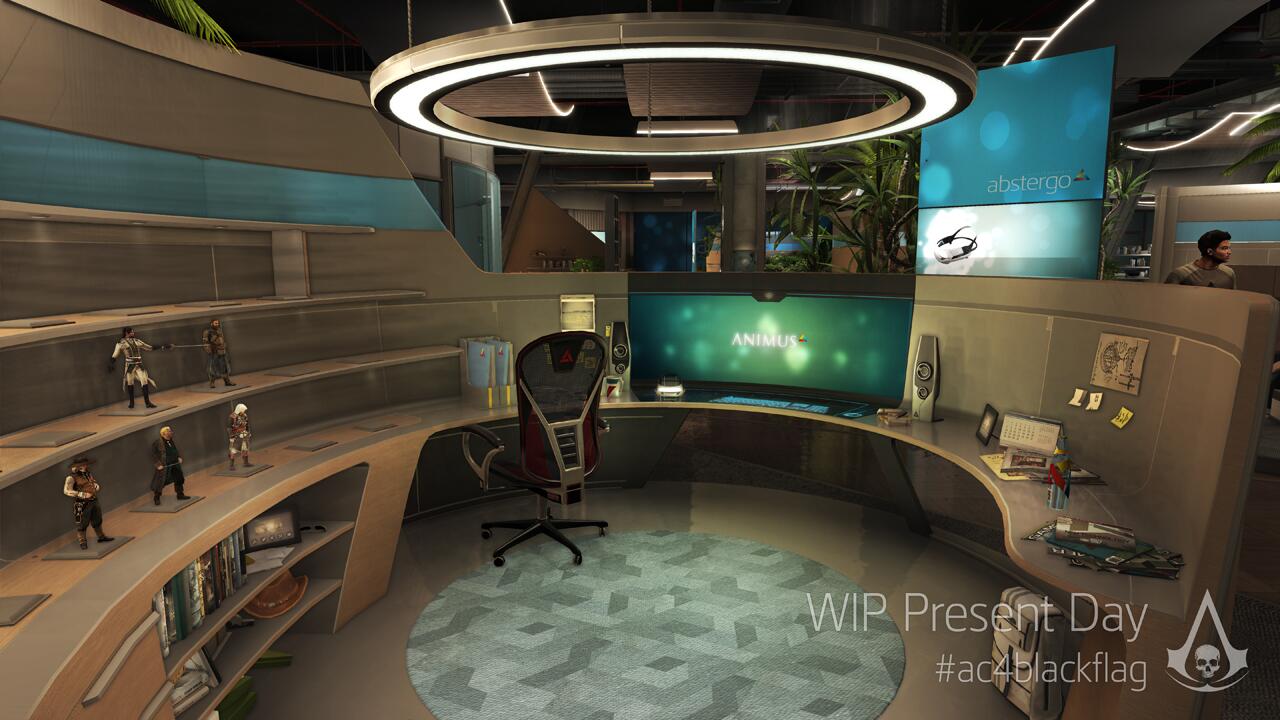 What happened to Desmond's body? Will you, as the present day protagonist, be a silent one at that? These are just two questions that arose from today's session with the Black Flag writer. If you'd like to check out other questions answered by Darby McDevitt during the Q&A session, you can do so by clicking here.
Source: [Assassin's Creed Twitter]
About The Author
In This Article
From Around The Web
Comments
blog comments powered by

Disqus